FRANCO CORELLI THE LEGACY – AN UPDATE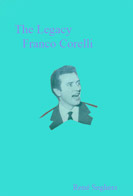 Over time I've had some questions about the eventual publication date of Franco Corelli The Legacy. This date is not yet fixed in any way. Although the book is largely written, it may well take another year or two before I can publish it. Meanwhile we are of course all anxious to finally read about Franco's 1000 lovers, which an esteemed USA colleague is promising us for his likewise still upcoming book.
We are as glad to have discovered that he is following our footsteps in terms of smoothly working down our footnotes one by one, as we are to see him following our Born to the Breed chapters. Though not yet announced officially in our newsletters, the first Born to the Breed chapters, along with the concept have been online for over a year here. These pages deal with the lineage of baritenors back to the La Vestale era (we actually go beyond it, up to the French singers that antedated the Italian school) that produced Corelli. I am glad to see though, that the focus of that book is shifting from the undersigned to Corelli himself – I will not dwell further on this topic here, but my preview of that book can be found here.